Using FileZilla
FileZilla is open source FTP software distributed under the terms of the GNU General Public License and available FREE from http://filezilla-project.org/
Download and install FileZilla. Before you can use it to upload your site, you will need to configure Site Manager.
UPDATED: July 22, 2016 Because of a change on the security for the Rootsweb servers, you will need to make a change to your setup if you are having difficulty connecting.
Configuring Site Manager
You will need the following:
FTP Path - this is different for each of the RootWeb servers

FreePages server use ftp://users.freepages.rootsweb.ancestry.com/
RootsWeb server use ftp://users.rootsweb.ancestry.com/
HomePages server use ftp://homepages.rootsweb.ancestry.com/
NOTE: The old settings used by RootsWeb before it became a subdomain of Ancestry.com appear to still work.

Username
Password
Go to File > Site Manager > New Site
Click the New Site button and a new folder appears. Give it a name and add the site details.
GENERAL TAB:
Host - users.freepages.rootsweb.com/ OR users.rootsweb.com/ OR homepages.rootsweb.com/
Port: "leave blank"
Protocol - leave the default FTP
Encryption - Use explicit FTP over TLS if available
Logontype: Normal
Username: from your RootsWeb welcome letter
Password: from your RootsWeb welcome letter. Since your password is case sensitive, you may want to use cut/copy and paste from your e-mail program to make sure that you don't mistype it.
Comments: Add details if you want
ADVANCED TAB:
Default Local Directory: Your website on YOUR hard drive
Default Remote Directory: genealogy_html or one of the communities OR public_html
TRANSFER SETTINGS:
Default OR Active OR Passive (Choose Default or Passive - RootsWeb servers now REQUIRE a Passive Connection)
CHARSET TAB:
Click the Connect button and make sure your connection works. The files on the server will show in the Remote Pane and the files on your hard drive will appear on the Local site Pane.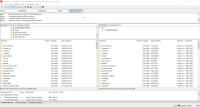 Publishing Using FileZilla
Connecting to the Server
File > Site Manager > Double click the site name in the left hand pane.
Select the files on your hard drive. In the 'Local Pane' select the first file/folder with the mouse, hold down the Shift key and scroll down while still holding the shift key and select the last of the files/folders. This will select all the files, right click and press upload.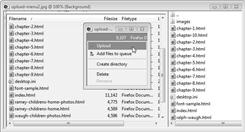 Your files will proceed to upload and when completed you should see the new files in the right pane.
Additional Resources