Website Design and Search Engines
NOTE: This is an expanded version of a post to the RootsWeb FreePages Mailing List
Before I can even visit a website I have to FIND it. How? Usually by searching for a keyword that I am looking for - surname genealogy? surname history? a county? an individual name? and so on. If you don't turn up in Google Search, how will I know where to look for your information? Yes, there are other search engines but right now Google is the top one and probably the one most of us use. You can conduct this same type search on any of them.
Google Site Indexing
The easiest way to find out how much of your site Google has indexed is type site:your-site-name.com/ in the Google search bar. You will see something like Figure 1 returned.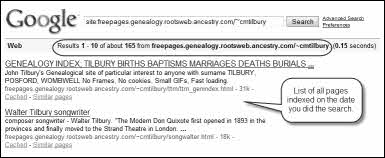 Figure 1: Google Site Search Results Found
or perhaps like Figure 2 if none of your site has been indexed


Figure 2: Google Site Search No Results Found
using a sample site as an example: freepages.genealogy.rootsweb.ancestry.com/~cmtilbury shows 165 pages indexed on 12/11/2008
freepages.family.rootsweb.ancestry.com/~cmtilbury shows 48 pages indexed on 12/11/2008
How do those numbers relate to the number of pages you have on your site? all of them? half of them? None of them (Figure 2)?
If you click on the word CACHED, you can see when the site was last crawled by Google

View Screenshot
If you click the text-only version of the page, you see a version of your page more like what the Google bot sees. Can you see all of your content? Or is part of it hidden because it is an image?
If your site is NOT on the rootsweb servers, then you can do the same thing but type in your domain in two ways site:www.your-site-name.com AND site:your-site-name.com. Do you get the same number for each of the queries? No? Then you should create a 301 permanent redirect to the domain url you want to use.
I've done my search for the keywords I am looking for. Do you show up in the list Google returns? How far down that list are you?
If I use Tilbury genealogy, our example site comes up with the first two entries on the first page. Good. I click on the first link and am taken to http://freepages.genealogy.rootsweb.ancestry.com/~cmtilbury/page1.html the second link takes me to http://freepages.genealogy.rootsweb.ancestry.com/~cmtilbury/ Identical pages? Identical content? How many copies of the same page exist? Google can consider this duplicate content.
So how can we help Google find our sites? First stop http://www.google.com/support/webmasters/bin/answer.py?hl=en&answer=35769 A few of the suggestions include:
Design and content guidelines

Make a site with a clear hierarchy and text links.
Offer a site map to your users with links that point to the important parts of your site.
Try to use text instead of images to display important names, content, or links.
Make sure that your

Technical guidelines
Quality guidelines

Don't create multiple pages, subdomains, or domains with substantially duplicate content.
How does your site measure up?
Some of the things Google recommends, you cannot do on the Rootsweb servers like the robots.txt file BUT you can follow the designing guidlines.
Once I find your site, can I then find my way around it easily? If I come in a back door (other than your Home Page) can I get around? Can I even tell what your site is about and what you have to offer? Good site wide navigation is an important part of any website design
Can I view your site in ANY browser, not just Internet Explorer.
I realize we are genealogists providing information for people to use in their continued search. BUT if Google cannot find your pages or return them in a listing for relevant sites, the person will not know the info exists.
So while web design may not be on the top of the list for things you want to do, it does play a big part in how the people you want to share your information with FIND that information.