Web Developer Toolbar
What does your page/site look like in a browser other than your default one? If you use Internet Explorer, have you checked to see how your pages look in Firefox? In Opera or Netscape? If not, you may be in for a BIG surprise. You should be checking your site in at least one other browser preferably all of the major browsers.
If you are a developer of web pages, then one of the indispensible tools you can use is the web developer toolbar. There is one available for Firefox and Chrome. I also use the Link Checker for Firefox.
What do these tools do? I'll cover each one separately with screenshots. The Web Developer extension adds a menu and a toolbar to the browser with various web developer tools. What you can do will depend on which one you are using BUT all of them will let you validate your page - locally and/or online; resize your browser window, view the style sheet for the page/site or the source code.
Firefox
The Firefox Web Developer Toolbar is available from Firefox or directly from the developer, Chris Pederick. The Web Developer extension adds a menu and a toolbar to the browser with various web developer tools. The screenshot may look different than yours depending on the version you have installed.

View Screenshot
Also available for FireFox is LinkChecker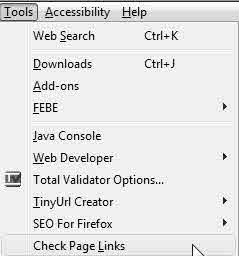 Internet Explorer
The Developer Toolbar is not compatible with Internet Explorer 8. Please use the developer tools included with Internet Explorer 8. Press F12 or click the 'Developer Tools' entry in the Tools menu to begin using the tool. Click here for more information on IE8 Developer Tools.
The Microsoft Internet Explorer Web Developer Toolbar provides a variety of tools for quickly creating, understanding, and troubleshooting Web pages.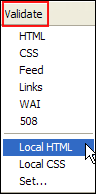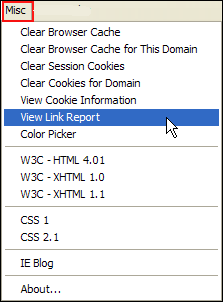 The Web Accessibility Toolbar has been developed to aid manual examination of web pages for a variety of aspects of accessibility. I use this one with IE7 installed on a Windows Vista.

Opera
The web developer toolbar is a menu and toolbar setup for Opera which brings together functions related to web development, validation services and links to standards and other documentation.