Configuring a new FTP site with WS_FTP
WS_FTP is one of the widely used FTP products. The example provided here was created using WS_FTP Pro Version 7.0, the appearance of the panels may be different in other versions of the product. WS_FTP LE (Limited Edition) was a free version that is no longer distributed by Ispwitch. You can still download WS_FTP LE from various repositories on the Internet. Detailed instructions for installing WS_FTP LE.
In the Connection dialog box, select New Site from the File menu.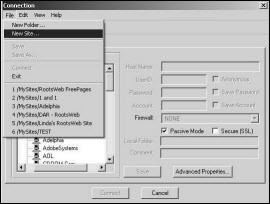 Click thumbnail for larger view.
Enter a name for the site. Enter a host name or IP address. Click Next. NOTE: Since RootsWeb is now a subdomain of Ancestry.com, you may need to change the Host Name to users.freepages.rootsweb.ancestry.com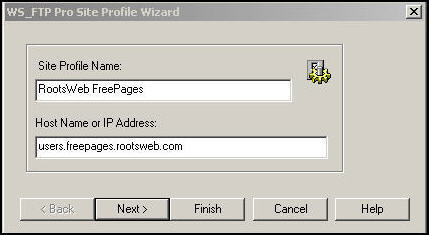 Fill in the User ID and Password from your welcome letter. Since your password is case sensitive, you may want to use cut/copy and paste from your e-mail program to make sure that you don't mistype it. Be sure to check the Save Password option so WS_FTP won't have to prompt you for your password the next time you want to upload files. When done, click Finish.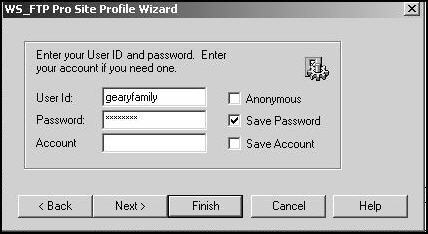 The site appears selected in the list of Configured Sites. PASSIVE MODE is now required by RootsWeb servers.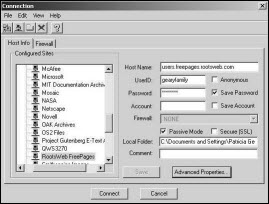 Click thumbnail for larger view.
(Optional) To edit advanced site properties, click the Advanced Properties button.
Click the Connect button to connect to the newly configured site. Make sure you are connected to the Internet BEFORE you click the button.
The files on your own computer appear in the left-hand window (labeled Local System) and the files on FreePages appear in the right-hand window (labeled Remote System). Your account contains a number of directories (folders) -- one for each of the RootsWeb Communities - genealogy, misc, history, etc. All of the directories on Freepages end in _html.

View screenshot
You must be in one of these directories before you can upload files; uploading into the account root directory is not allowed. I selected the genealogy_html directory and opened it by double-clicking the name of the directory in the FreePages side of the window.

View screenshot
The current directory name is displayed in the window headers. To upload a file to FreePages, select it from the list of files on your computer, then click the right arrow upload button. You'll want to make sure that your web pages are uploaded as ASCII and your image and sound files are uploaded as binary.

View Screenshot
When you have finished uploading, just click the close button.