Launching a WordPress Blog EBook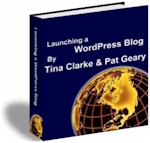 Launching a WordPress Blog EBook Edition 2.0 by Tina Clarke Microsoft MVP - Expression Web and Pat Geary former Microsoft MVP - Expression Web
Available for FREE download NOW Revised April 2009 Edition 2.0
MAC Users: Launching a WordPress Blog in pdf format. A big thank you to Scott Glasgow who converted the ebook to pdf fomat so that MAC users could have access to it.
And our thanks to Cricket Walker of GNC Web Creations who has inspired us on our journey.
Learn to install and setup your own WordPress Blog with this easy to follow tutorial.
This Launching a WordPress Blog EBook is focused on giving a guideline for installing WordPress on your own host with your own domain or a sub-domain. It is intended as a beginner's ebook and covers the basics. There are some advanced techniques included as well. It is essential that you start with Getting started with a WP Blog and follow step by step each page. Tick off each step as you go so you know you are following along. Having been through this process we have found this is truly the best way forward. Download your FREE Launching a WordPress Blog EBook Edition 2.0 NOW.
Once you have downloaded the EBook, unzip it, print out the checklist and you are ready to start launching your own WordPress Blog.
Topics Covered Include:
Getting started with a WordPress Blog

Check List - Print This
Requirements for Installing WordPress
Installing Database
Download WordPress
Configure wp-config-sample file
Configure a FTP Client
Installing WordPress
Setting up WordPress
Options Permalinks
Configure WordPress Categories
Setting WordPress Preferences
Installing WordPress Themes
Creating SEO Titles in WordPress
Disable NoFollow Attribute in WordPress

Desktop Blogging Clients

Windows Live Writer

Setting Up Windows Live Writer
Creating Posts
Inserting Images
Options
Publishing

BlogDesk

Installing BlogDesk
BlogDesk Configuration
Creating Posts in BlogDesk
Inserting Images in Posts
Publishing with BlogDesk
BlogDesk Options
BlogDesk Extras

WordPress Essentials

WordPress Plugins

Akismet Plugin
Sitemap Plugin
WordPress Database Backup
WordPress Ready Contact Form

How Trackback and Pingback works in WordPress
Moving a WordPress Blog
Moving Servers
Upgrading WordPress Program
WordPress API
WordPress Tips
Download the FREE Launching a WordPress Blog EBook Edition 2.0
If you are using a MAC and need the pdf format for the Launching a WordPress Blog, download the pdf version in zipped format.
Please send us feedback on using the Launching a WordPress Blog EBook as you follow the tutorials. Feedback, both a good and the bad is appreciated. Just use the Contact Form to submit your feedback.
Comments from Users
I thought about making a blog using WordPress a year or so ago, but when I looked at how to do it my brain just wouldn't focus on the instructions. Then some of my online friends made an ebook on making a WordPress blog. So I gave it a try. I just want to say this was a truly enjoyable and fun experience. The instructions made the whole experience a breeze! I am having a ball with my new blog!
Thank you, Pat and Tina! Your ebook is absolutely great! ~ Martha Bagwell of Martha's Blog
=======
I'm just about to try to set up a blog for a few sites that I'm working with -- hopefully with the church website too, if I can interest enough people in participating -- so this is very welcome. Excellent timing! I've downloaded your ebook and can't wait to get started with it. ~ Terry - First Unitarian Church of St. Louis ~
========
Thank you Pat and Tina for a most comprehensive guide to setting up a blog. I've been wanting to have a blog, but was never able to get it going until your book! The instructions are very easy to follow, easy to understand and I now have a blog, thanks to you gals! Now I just have to start blogging.... ~ Ruth - Essential Oils by Young
Additional Resources