Fixed Width Layout Templates
Each of the templates in this series uses a fixed width resolution and is written with a XHTML Transitional doctype and uses an external style sheet. The templates are available for download as a zipped package. The zipped package contains BOTH a dwt with external style sheet to use with FrontPage 2003 or Expression Web along with the image files, as well as a blank template that can be used with earlier versions of FrontPage or any other web editor. I have also included a sample index.html page with filler content. The menu and footer can easily be converted to include pages or server side includes.
If you are interested in using equal height columns without the use of background images, I encourage you to check out the tutorial PVII Equal Height CSS Columns by the folks at Project VII. While they are primarily makers of add-ins for Dreamweaver, this tutorial does NOT require the use of that software. It will work with any web editor as long as you have a basic understanding of HTML and CSS. Three Column Layout example using the PVII Equal Height Column script.
You might also take a look at their tutorial CSS Express Drop-Down Menus for a single level drop down menu. Again, Dreamweaver is NOT required. Also check Using Project Seven CSS Express Menus in Expression Web.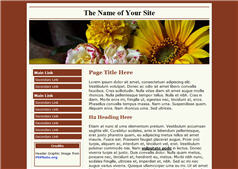 Autumn Floral Fixed Width Layout Template.
Updated March 2013
Download Autumn Floral template package.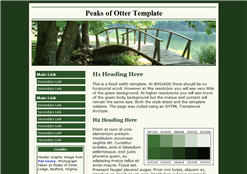 Peaks of Otter Fixed Width Layout Template.

Download Peaks of Otter Template Package
Clicking on the link under the template will take you to the full size template. The dwt/template and all files can be downloaded in zipped format. ENJOY!
Download zipped file with each of the templates, the corresponding style sheets and images from links included with each of the templates. Instructions for using the template files. The templates and the css validate.
Templates
These are basic templates. There are other styles you will need to add as you go along. Google is your friend. Learn to use it to find style info you might need. There are many css resources on the Resource page of this site. If you have questions, don't hesitate to ask. Investigate both the code and the style sheet. Make changes so you understand how the style sheet and coding relate to each other. Explore different menus using the resources included in the sidebar.
You are free to download and use them for your personal or business website or for any purpose that you want. All I ask is that you include a link back to this site in your website.

Additional Template
Sources for Seamless Tile Backgrounds
Remember if you use someone else's graphics you may need to link back to their site.
CSS Menus
Color Tools