Christmas Snowman Template
Once there was a snowman, Who stood outside the door, He wished that he could come inside, And run about the floor. He wished that he could warm himself, Beside the fire, so red, He wished that he could climb Upon the big white bed.
So he called the North Wind, "Come and help me, pray, For I'm completely frozen, Standing here all day." So the North Wind came along, And blew him in the door, And now there is nothing But a puddle on the floor! ~ anonymous ~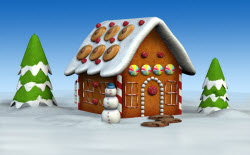 The Christmas Snowman Template is a single column layout and suitable for a small site. It uses a fluid layout with a maximum width of 1100 pixels. You may remove this restriction if you choose. The template uses some CSS3 for the rounded corners and box shadows. Newer modern browsers will display them as intended. Older browsers will display the rounded corners as rectangular. This templates makes use of one of the Google web fonts, Philosopher. Read more about Google web fonts.
Menu
The menu used for this template is from CSS MenuMaker. You will need to check for display issues as you add menu items. You might want to consider using a dropdown menu if you have a larger site.
Images
The Snowman used in the masthead is from Microsoft as is the sample image used within the content area. Background Image by Eos Developers
Classes are included as part of the style sheet to float your images right or left or center them on the page.
This is how a list will look:
Main item
Main Item
Main Item