Template Information
This is a fixed width template. At 800x600 there should be no horizontal scroll. However at this resolution you will see very little of the clay background. At higher resolutions you will see more of the clay body background but the menus and content will remain the same size. Both the style sheet and the template validate. The page was coded using an XHTML Transitional doctype.
Editable regions in the dwt include the doctitle, description, keywords, and the main content area. If you want the Credits box to change from page to page, you will need to create an editable region for that area.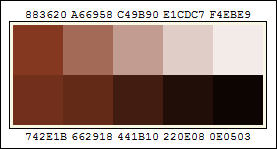 The screenshot of the color palette shows the application of the class imgrgt. The is also a style to float images to the left and center.
Any of the areas including the left side navigation can be changed to includes if you want them to change from section to section. The site name div at the top is not an editable region as it is assumed your site name will go there and your h1 tag will be within your content area.
The package includes this sample index page (this page), a dwt, and a plain blank template in case you are not using FrontPage or Expression Web. All images are included. Download the Autumn Floral template package.
---
This is a list
This is another item

This is a sub item
This is a sub item